Air Care proudly sells the following types of HVAC parts from our store off of Hercules Ave. in Clearwater, FL.
We do NOT sell refrigerant to anyone unless the customer has an EPA license. CASH ONLY!
Capacitors – A capacitor is a device composed of two metal conductors separated by an insulating material. The main job of capacitors is to store electrons to provide start-up energy for your air conditioner, they build up a charge when electricity runs through them by swapping electrons between the two conductive plates inside.
Blower Motors – A blower motor is the component within a home's HVAC system. The motor blows heated air through vents when the heating system is in use. Conversely, some blower motors blow cold air when the air conditioning system is in use.
Blower Assemblies – Blower assemblies consist of a Direct Drive wheel, housing, cutoff, and motor. Blower assemblies may include a capacitor, legs, or other accessories such as labels, limit switches, etc.
Condenser Motors – Condenser fan motors are installed in air conditioner condensing units to power the fan blades that cool the refrigerant in the unit's condensing coil.
Transformers – In a basic HVAC control circuit, transformers are used to step-down the voltage from the line voltage to 24 volts.
Relays – Relays / Contactors are nothing more than a switch. In heating and cooling these relay/contactors are used to turn on high voltage components such as motors, compressors, and other high voltage components.
Contactors – The air conditioner contactor is basically a switch that is located in the outdoor part of the air conditioning unit. The "switch" consists of a control coil, a metal plunger, and one or more sets of electrical contacts.
Filters – A particulate air filter is a device composed of fibrous or porous materials which removes solid particulates such as dust, pollen, mold, and bacteria from the air.
Control Boards – It operates all functions, in the order they are to occur. Because they are a sophisticated electronic, they can fail & must be replaced.
Modules – The AC control module is used to control and regulate all the functions of the AC system electronically.
Fan Blades – Primarily, the fan blades turn and push air downward, creating a downdraft and making a room feel (it doesn't actually cool the room) substantially cooler.
Defrost Boards – The sensor closes when the coil temperature is cold enough to frost or freeze.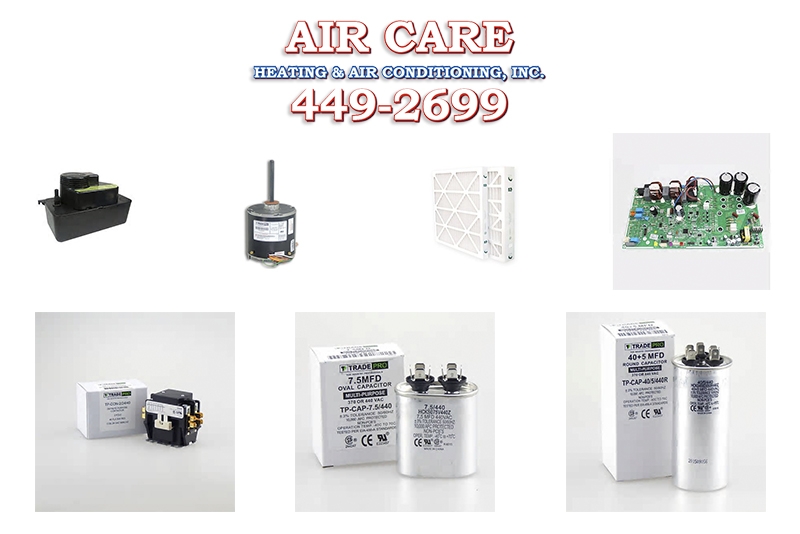 Condensation Pumps

Flex Duct (we sell sizes that you cannot buy at home improvement stores)

Duct Board (we sell sizes that you cannot buy at home improvement stores)

Thermostats (WiFi)

Thermostats (Non-WiFi)
What Our Customers Say
I have been a customer of Air Care for over 20 years. They are knowledgeable, efficient and on time. I would not use another AC company.
We service all of Pinellas, Southern Pasco and Western Hillsborough
Call Air Care today for a quote on your new AC system.
All new AC systems are permitted, installed, and inspected per State of Florida building code.
Our new installs also comply with HOA rules & regulations in Tampa Bay communities.